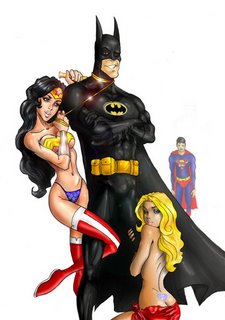 Once upon a time there were two superhero chicks who decided that we needed to break away from the whole 'men in tights scene' and find ourselves a real man to play with.
So it began...
Supergirl and I ditched Superman and made our way down into the depths of the bat cave.
There we found him.
Dressed in black, his cape open, and Lo and Behold!
The man was a wonder to my pretty blue eyes!
And he had a fast car.
Supergirl and I took up residence in the backseat.
When who should appear but the ever enticing ...Batgirl!