I love Halloween.
I remember when I was young mom used to always make our costumes for us.
I was usually a gypsy or something we could easily create from our closet.
This tradition was passed down to my own kids. I always made their costumes by hand when they were growing up. I'll try to dig out some of the old photos and scan them. We came up with some great ones.
Funny thing is that I never took sewing classes, but Troy bought me a sewing machine and I was off! One year I even made Zach a pirate, complete with frilly ruffled shirt, no patterns, just mental images and imagination. It made the build up to Halloween all the more fun as the kids would peek in to see how their costumes were coming along. The excitement we created didn't come from advertisements or store propaganda. It came from the fun we created ourselves.
I've always wanted to do Halloween in New Orleans.
Something about the residents of that city just makes it seem like the perfect Halloween Mecca. I would love to take a pilgrimage there.
Troy knows how much I want to go to Savannah for the Halloween ghost tours and to N.O. for the Halloween partying. Now that the kids are older he has promised that soon we can make that trip.
I'd try not to look like a tourist, but no way could I come up with anything nearly as creative as these guys.
Troy sent me this email from work.
Sometimes it's nice just to know that he's thinking of me as he goes about his busy day. Wants to make me laugh.
He succeeded when he sent these pictures the other day.
The Sheep Guy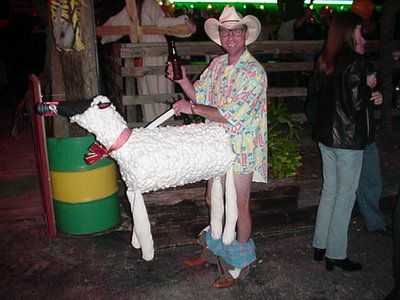 Retired Hooters Girls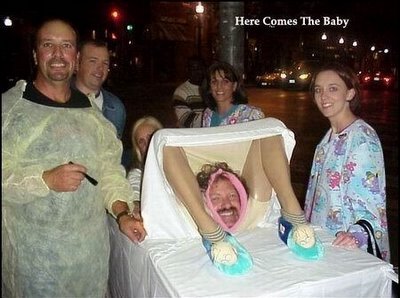 Troy called this 'Elvis and his testicle taco'. I almost wet my pants laughing.
Happy Halloween Everyone!
Should have some more fun pics soon.