Welcome to Musical Monday brought to you by
WDKYLONDON
.
Rather than adding something from the long list of already published artists I have decided today to introduce you to one of our own blogging musicians. I had a blast introducing you to Tree so much that I decided to introduce you to another friend of mine. I hope you enjoy his singing and writing as much as I do.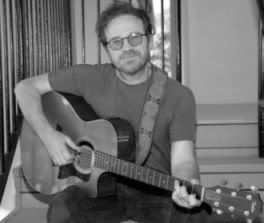 Bud Buckley
Powered by
Castpost
He sits alone on the stage, a wooden stool and his guitar are the only props visible in the spotlight.
His voice is a little ragged, a little worse for the nights long session, and yet as his voice rises above the din around us I feel his power. I feel that magnetism that draws a woman to a man. Something in the expression on his face; lost in the words he has written, lost. He is back in that place where his mind had gone in creating the words and I watch in fascination as those long fingers find their marks, deft and slender. Teasing the cords, drawing his passion out of his instrument. Playing it like the strings of my heart.
I am mesmerized, and then I am lost too.
Lost in the words, lost in the emotion, his beautiful climax.
I love the words to this song.
I think they say so much.
I hope you find something special in them too.
They are amazing.