Welcome to Musical Monday, brought to you by
wdkylondon
.
Today I would like to take this opportunity to introduce you to a new blogger. A great musician and talented lyricist, not to mention that he has an incredible voice. I hope you enjoy his music as much as I do.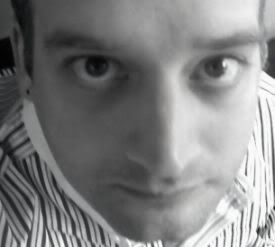 LUMIVOX
SHE WALKED AWAY <-- Opens mp3--Much better quality than Castpost.
I walked the halls, colours looming, large and imposing. My footsteps ringing on the stone floors as I made my way from one room to the next. My mind lost in another time. A time when I made this same journey, but not alone.
She turned and walked away
And left him standing there
With a taste in his mouth.

A little sweet, a trace of lime--
Once so familiar but a little strange this time,
A little strange this time.

And a thought of coolness falling,
Of his fingers; of her hair.
Of something fragile missing--
he can sense it isn't there
And in this place of echoes, where the past cannot die, for it is held, frozen in time, I listened as the past whispered morosely in my ear.
I heard my own laughter and felt gooseflesh rise at the memory of his fingers in my hair. I could smell him on me still. The way he smelled on that last day. I could feel his lips upon mine, the soft seeking tongue, that circled my lips before diving deeper, until it seemed to touch my very soul, suffocating. Intoxicating. I had to melt into him. I had to give him all of me in that moment, knowing that this would be the last of us.
He feels the thread grow weaker
A shadow falls between
He lifts his eyes to see what happened.

But above there's only sky
Just a hint of lead
Just the dawning thought that longing can turn to dread.
These rooms, with their stone faces and fractured moonlight, were the perfect tomb for what could not sustain itself beyond its time. Within these walls love's broken promises were laid to rest, a necropolis of hope, under each shroud lie hidden the dreams we had shared, the bones of what could have been. A relic amongst the relics.
She turned and walked away
And she seems to fade
He can feel himself forgetting

The museum, the parking lot
That dress she liked to wear
The coolness falling through his fingers tangled in her hair
A woman once walked in under the austere facade, sure of herself, sure that this was the end. The last of the small deaths that would finally defy resurrection. And now a shadow traces those same footsteps, not quite so sure, for time has proven that the flesh will remember. Regardless of the mind's conviction to suppress.
What can he say?
What should he feel?
She walked away,
He hopes it's not real.

What can he say?
What should he do?
She walked away,
He'll walk away too.
Is this the way of it then? That every place we have ever been, every view we have ever shared will retain some piece of you that I can't forget? Will I carry you forever within me? My second soul?
Happy Musical Monday everyone.
And welcome to the blogosphere Lumivox.