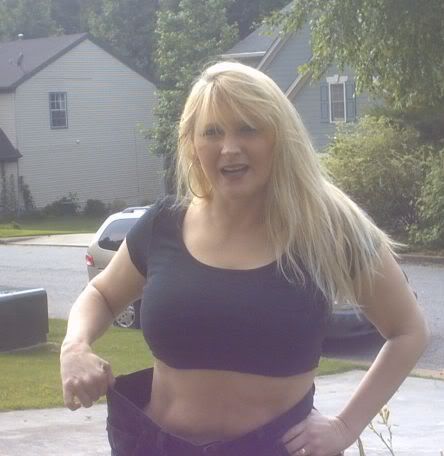 When
AnotherSuburbanMom
suggested we post our flaws on HNT I thought it was a brilliant idea.
I posted my belly picture. The part of my body that I see as 'flawed'.
I also read the posts from a lot of other bloggers on what they consider to be their flawed parts. Many of those posts had to do with dieting. The desire to lose weight.
I had written a post back in 2005 when I had finally reached my dietary goal.
A celebration. But I did take the post down after talking with a friend about how I had managed to kick those last pounds. I had gone to the extreme of an almost entirely liquid diet. A diet that was extremely high in sodium and not healthy at all. A diet of desperation.
I took the post down when a friend suggested that others might follow my lead and harm themselves in the process. That was something that I hadn't considered. It was bad advice. It had to go.
But the post that I did on Thursday made me start thinking about the battle I've had with my belly. The picture above is from the original post I had written about my weight loss. As you can see the belly battle began there. I had lost the weight, and my belly was actually very toned. But there were still pockets of flesh that no amount of exercise could erase.
I've actually put some weight back on intentionally. The goal I had set for my weight was not a good weight for my figure. I just didn't look 'right'. My belly did start to look much more normal when I put some weight back on. Not perfect by any means and still 'flawed' in my eyes. But I've learned to live with it.
This is a cautionary tale for all those who think that a certain 'weight' is desirable. We listen too much to Hollywood. We let them instill in us what we should consider normal, or acceptable.
I'm here to tell you that it's not realistic to believe that Demi has never had plastic surgery. And it
is
okay to get a tummy tuck if you want one. Wanting to feel good. Wanting to feel desirable and sexy is fine.
It's your body.
It's your happiness.
Own it.