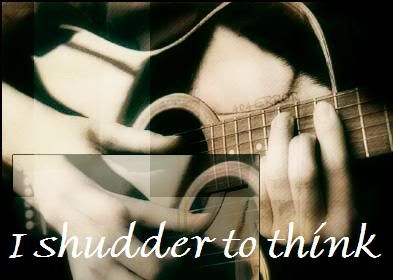 Powered by
Castpost
Shudder
by
Lumivox
Once again for
Musical Monday
I have the privilege to bring you a selection from the
Lumivox Collection
. This recording is my favorite, not only for the intense feeling with which he delivers his songs, nor the craftsmanship of his guitar playing, but this one gives me the feeling of intimacy. As I listen to the beginning with L speaking into the microphone, giving some simple directions, it makes me feel that I am there, standing in the room, watching him as he plays.
And the playing is intense. Dramatic. As with most of his playing there is a certain profoundness to his 'guitar voice' that draws me into the music itself. If the song is the story, then the guitar playing is the stage and lighting, setting up the scenario as it unfolds. The opening chords strike-- hard, fierce, like the tolling of a bell that cues the audience into expectant silence. From there it is an impassioned ride into the depths of human emotion, with a break towards the last chorus when the guitar goes from a shout to a whisper, begging for reflection.
I used the word craftmanship. I can't think of a better word for this song of temptation, realization, and regret. If music and story telling is a craft then
Lumivox
is a master.
I can't even tell you how long she's been standing there...
but I shudder to think.
This is song writing at its best.