I'm an admin for
blogexplosion.com
. A free traffic generating community for bloggers. We currently have 106,807 blogs in the directory and we're looking for quality writers to join. This site is for bloggers, not for sellers, not for corporate websites. Just blogs.
The subject doesn't matter. There about fifty categories, from podcasts and video blogs to anime, gaming, technology, blogging tips, business info and personal diaries. The only requirements are that they are written in English, that they are updated at least monthly and that comments are enabled. All sites are reviewed by (mostly) real human beings and we try to keep up a standard that weeds out junk and spam blogs.
I review websites for admission into the blog explosion directory. This is a labor of love that I took on as a result of my desire to find well-written blogs. I enjoy reading interesting sites. I'm always fascinated by the eclectic mix of writing and topics that roll through my dashboard.
Last night I had intended to visit the blogs I follow, but when I popped into Blog Explosion I found a large number of blogs that needed reviewing. I set aside my own visits to make sure that these writers waiting for their acceptance emails were not held off too long. We get hundreds of new blog requests daily. It has added up over the holidays as admin members spent time with their families--as they should.
The problem I'm increasingly running into is the number of spam and advertising blogs that are being submitted. This is a site that runs as a community. With 'Battle of the Blogs' you can pit your blog against another and members will vote on their favorites, they offer free blogging services and the chance to get to know other bloggers with similar interests. After you log-in you gain visits by visiting blogs in the directory. This increases your traffic as well as helping you find interesting new sites and writers.
Not to mention all of the useful blogging/technology information you find on Blog Explosion sites like
Gadgets Directory
or the great photography and biting wit of
runswithscissors
. The chillingly fascinating chronicles of True Crime journaled at
In Cold Blog
.
Anais Nin's Diary has been called 'The Liary' due to the heavy re-writing that Nin did to get it published, and yet it is still a brilliant, creative, erotic piece of lying literature--Much like
UnpopularTruths
"
When my fake editor came to me with the chance to conduct a fake interview with Nickelback frontman Chad Kroeger – noted pants-around-your-feet enthusiast and unapologetic photo-op horn-thrower – I jumped at it like a chicken on a dough dish
." Okay. Maybe not so much erotic, but brilliant and creative definitely.
And then there's
My Kafkaesque Life
. It takes a special stroke of creative genius to take a picture of an unpublished post and make it a post. A shy guy. It says all of the things he would never say directly in a post.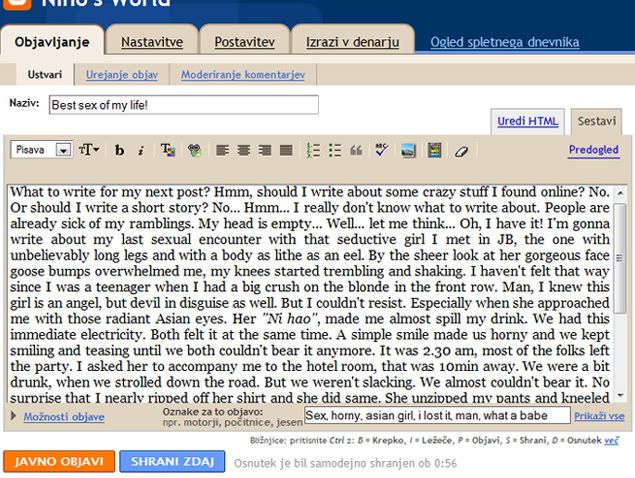 Now
that
is brilliant.
One of my dirty little vices~ I could easily blow an entire afternoon reading the book reviews, rants, recipes and plain kvetching of
The Library Lady Rants
"
Yes,I am aware that people can't read simple instructions. Hell, I'm a librarian, who would know better
?" As a matter of fact I
have
blown an entire afternoon reading her. In my pajamas, drinking hot tea. What can I say? Showers are over-rated.
Last night I wasted hours wading through money-making blogs that offer nothing in their posts except links to on-line stores and advertising disguised as blog posts. I couldn't unleash that feculent bilge on this community of bloggers who have devoted themselves to creating a unique, entertaining and informational presence within the blogosphere. I hit the reject button so many times I chipped a nail. Frggg
So now I'm turning to you. If you can write and you have a unique style, information to assist bloggers, or just humorous observations on your daily life, please. Please. Add your blog to
Blog Explosion
. I'd rather chew off my own toes than have to sit through another night of viagra/creatin laced drivel.