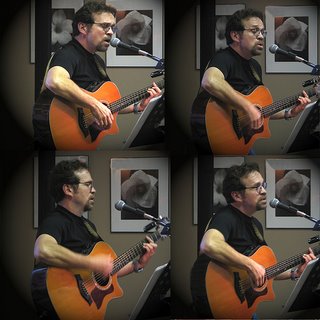 Bad idea, what was I thinking when I made no move that day
I just watched did not touch, too scared to steal you away
How was I to know how fast the years would go, how long we'd be apart?
How your voice your smile your every move would stay engraved upon my heart
Tattoo
Copyright 2006 by
Bud Buckley
Listen to Tattoo -->
Tattoo
I've featured Bud Buckley on Musical Monday before but I thought that today I'd let him take over and tell us a little bit about how he hones his craft.
These lyrics came about while I was at the end of recording my first CD,
Feel My Love.
My producer,
Mark Zampella
, was trying to get me to accept a track I was not very happy with. I was out of time and money to make a do over. He said, "Are you gonna do another CD after this?" I assured him I'd have to just to prove I could do better.
"Then it's like my tattoo," he said.
"Huh?" I wondered. I am tattooless and don't completely understand them. Both my kids and their spouses and a large number of my friends have them. I don't ask them to explain. My daughter told me recently that it's kind of addictive. People's addictions are personal so I left it at that, imagining a future generation of grandparents covered in ink. But whatever.
"People sometimes ask me if I regret these tattoos," Mark said gesturing to some on his legs. "And I tell them no because it represents who and where I was then. And I moved on."
"So that's what my recordings are like? Permanent fixtures of who I was then and I can either feel stuck with them or embrace them?"
"Yup."
"That's a wrap then."
I started to write Tattoo not long after that. My Cathy jumped on it immediately and loved the idea that she is a permanent fixture on me and in me.
This is the newest version of this song. Recorded in NY a few weeks ago in the home studio of
Helen Avakian.
Helen is an award winning singer/songwriter and one of my dearest friends in NY. She was my former guitar teacher. I went to NY last month to have her arrange some tunes for my new CD. This one was her favorite and we spent two full days adjusting the lyrics and getting down these tracks. Her husband, Terry Champlin, a composer and classical guitar teacher at Vassar College, did the mix.
I simplified the way I usually play it live, doing just a unadorned rhythm guitar track first. I then added two tracks of guitar, one classical and one steel string. The vocal is pretty dry and I haven't messed with any harmonies yet. That will come. Helen added a bass track which I hope you can hear on your connection. She also added some light percussion. We'll redo the whole thing up in Woodstock at NRS studios when I can book some time in the spring.