You can see the post of Noonie's visit with me
here
.
And the video!
Girls Gone Wild!!!!
A message from
Noonie
...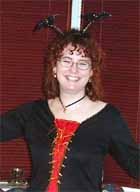 Saturday 16th September 2006 I shall be jumping out of a plane at 10,000 feet, strapped to an expert... I hope... all for charity.

I have set myself a goal, to raise £10,000 in a year for Cancerbackup. This charity is amazing, they were my main source of information written in understandable language. They have a 24hour helpline to call and sometimes it's easy to forget how important it is to support the charities that support the people who have, think they have or have a relative with cancer. Cancerbackup is available to anyone who has the internet. Nearly all the leaflets I found useful that were handed out at hospital were written by them. If you want to see the site go here...

If you would like to support my Leap please visit my page for donations. This is a clever system that means I don't have to collect in money from folks far afield and my friends all over the world can support me.

I'd really like to reach at least £2000 before I leap.

Find me at Noonie's Leap
Please go encourage Noonie.
Not only is she herself a cancer survivor, but also the mother of a cancer survivor.
You see Noonie's little daughter was diagnosed with cancer also and has survived. Now that should be enough to make any mother or father want to support her.
It is a small world, when we look at how we, here in America, can support a woman in the UK who is working to benefit us all. Our wives, sisters and mothers.
We love you Noonie!