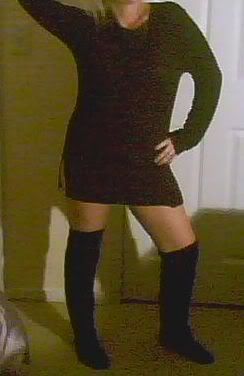 There's nothing sexier than over-the-knee boots with a short skirt. These are plain suede slouch boots, but boots with buckles would work just as well.
You can dress up a work outfit with boots as well. Thanks to the fashion industry's love of retro, leggings are going to be hot this season. And boots with a long coat are a perfect way to dress them up.
Happy HNT!
PS. Thanks to my mom for the new blog name.
We'll see how long it lasts.
See the man,
OS
.
Over-the-knee suede boots in red.
Hot!
This work is licensed under a
Creative Commons Attribution-NonCommercial-NoDerivs 3.0 Unported License
.
Tweet
Hang with Me on Twitter
:
@a_geek_girl