If you only see one concert this year: Avenged Sevenfold, hands-down. There's no band out there that can even compete with them. They are the musical punch-to-the-face that metal fans have been begging for.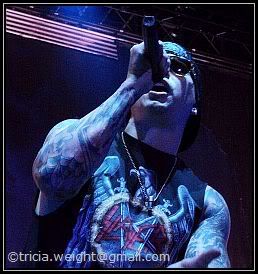 Check out the Avenged Sevenfold, Seether and Alter Bridge concert photos in the
Examiner.com slideshow
.
Taking a momentary break from their current tour schedule, Avenged Sevenfold rolled into Atlanta to headline as well, a one-off show with support from two of the hardest rocking bands on this summer's tour circuit, Seether and Alter Bridge. The explosive, power-packed performances of all three of these bands made it a concert lover's dream come true. Alter Bridge, Seether and Avenged Sevenfold on one stage; an absolutely epic concert experience.
Hang with Me on Twitter
:
@a_geek_girl
Read the full review
http://www.examiner.com/music-history-in-national/concert-review-avenged-sevenfold-with-seether-and-alter-bridge-review
This work is licensed under a
Creative Commons Attribution-NonCommercial-NoDerivs 3.0 Unported License
.
Check out who I'm talking to now:
Interviews From The Edge

on Youtube
Interviews From The Edge
on my
Technorati Profile
Interviews From The Edge
on my
Blogcritics

A GEEK GIRL

Profile
Currently Gearing Up To Cover the 2011 Concert & Music Festival Season
Look for the reviews soon on my
National Music History Examiner
page and my Salon Blog:
Music & Concert Guide
.
Tweet
Hang with Me on Twitter
:
@a_geek_girl