I know--I'm late.
Slayer Day was June 6th.
Here's my
video playlist
for Slayer Day.
Interviews with Kerry King
live backstage and with Dave Lombardo. Live interview with Anthrax as well; bands who have talked about Slayer during our interview or who have cited Slayer as a musical influence: Johnny Plague from Winds of Plague, Angry Phill from Madlife, Roger Miret of the Disasters and Agnostic Front.
KERRY KING - DAVE LOMBARDO - INTERVIEWS FROM THE EDGE
M. Shadows' picture is gracing this post as well and I've also added the concert review video for Avenged Sevenfold--because they fucking rock--and because the first time I ever saw them live, when I reviewed Uproar Festival 2010, Shadows was wearing his SLAYER T-SHIRT!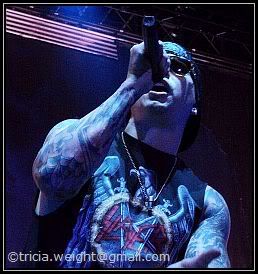 As soon as I recovered from the
shock of his stage entrance
<-- editorial review here as well, of Seether and Alter Bridge), I noticed his shirt. This photo still makes me smile whenever I see it.
Have to re-upload the Welcome to Rockville videos and the Madlife interview also--apparently the new Windows 7 movie maker bumps uglies with Youtube's video processor--and not in a good way. When I've finished that I'll definitely be putting together the 2010 A7X Uproar video as well as the Anthrax and Slayer videos.
I hate shooting when I review a concert, prefer to headbang and take notes--Seriously! I even headbang when I'm supposed to be shooting! but when I do shoot it bothers me to have all of those photos left over knowing fans would love to see them. So more videos up-coming, as well as the Slayer 30 year celebration video.
Check out who I'm talking to now:Interviews From The Edge on Youtube

Interviews From The Edge on my Technorati Profile

Interviews From The Edge on my Blogcritics A GEEK GIRL Profile



Currently Gearing Up To Cover the 2011 Concert & Music Festival Season
Look for the reviews soon on my
National Music History Examiner
page and my Salon Blog:
Music & Concert Guide
.
Tweet
Hang with Me on Twitter
:
@a_geek_girl